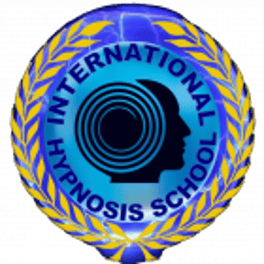 Shamanic Healing Practitioner
Time-sensitive: live Zoom events in Fall 2023
Shamanic Death Ritual: 12 noon - 2 pm, October 8th
Business Bootcamp Zoom workshops: October 21. November 4 & 18. December 2.
Hello, my name is Guzalia Davis. I am a professional hypnotist, and a Shaman, what you would call, by blood.
I have created this course with the purpose of giving you a universal framework that can be easily applied to any belief system, any spiritual tradition, and any lineage. Every client you'll see will come with their own story and background, and now, you will be able to adapt easily to their model of the world to make your work more effective.
Regardless of our beliefs, backgrounds, and traditions, we all can learn something valuable from each other, we all can love and support each other, and we can combine our efforts for the betterment of our World.
This course would be perfect for you if you have a Yoga, Wellness, Healing, Metaphysical/Esoteric, or Hypnosis Practice.
What is included in the course
If you are feeling lost and can't figure out how to unlock your healing gifts and actually, apply them in the real world, this course might be just what you need.
Throughout this course, you will:
Start with your personal healing - you cannot heal others without healing yourself first.

Expand your consciousness and your reality

Trigger major life transformation

Gain practical knowledge and skills that are applicable in real life with real people

Lay out a solid foundation for your business, so you can thrive

Fulfill your purpose by doing what you love on your own schedule
Upon successful completion of the exam, you will receive printable certificates:
Certified Shamanic Healing Practitioner

Certified Shamanic Journey Facilitator

Certified Shamanic Soul Retrieval Facilitator

Certified Meditation Facilitator
Instant access: fully pre-recorded classes, study at your own pace.
1-year access to the course hub (you can download the files to keep them permanently)
$599 (or 3 monthly payments of $220)
Bonus #1: 4 live Zoom workshops (Fall 2023) to help you create your own programs for steady income. Library of pre-recorded materials to help you start your business and market your services.
Bonus #2: Live Zoom meetings for ongoing support: every Friday at 12 noon Eastern Time (group healing sessions, techniques and protocols demos, business building, and marketing...)
Bonus #3: Free membership in our private Facebook Group for ongoing support and practice with peers
By enrolling in the course, you are agreeing to the terms of the services
What you will learn:
Shamanic Philosophy and Model of the World

Ethics and boundaries

How to facilitate Meditation, Shamanic Journey, and Soul Retrieval safely and effectively

How to facilitate Shamanic Healing in one-on-one and group sessions, in-person, and remotely (online)

Shamanic Energy Healing, Hands-on Healing, and Sorcery

How to facilitate Ancestral Healing

Trancework, Meditation, and Basic Hypnosis skills

Self-care
Workshops included:
Introduction to Shamanism, Shamanic Philosophy and the Model of the World

Initiation onto Shamanic Path

Shamanic Journey and Soul Retrieval

Shamanic Energy Healing

Shamanic Hands-on Healing and Sorcery

Trancework

Types of Meditation

Shamanic practices for daily self-care

Spirit Animal

Fall Rites

Samhain

Spring Rites

Introduction to Sacred Herbs of Spring, Magical Cooking & Gardening

Invocation and healing with Baba Yaga (Ancient female healer archetype)

Journey into the Hades realm for deep transformation

Introduction to Persephone

Manifestation Sorcery: Ether the Fifth Element Workshop

Your Gods' Pantheon and Soul Journey to Avalon

Shamanic Death Ritual

Hollow Earth: Soul Journey into the Inner Earth

Find your hypnotic style and voice

Personal safety

How to protect your home

Lots of healing sessions for you
Instant access to the course hub:
Video recordings of live presentations, workshops, and classes
Audio recordings with meditations and hypnosis sessions
Huge video library with session demos, various protocols, and techniques, marketing, and students' discussions.
Text files include:
Manual

A guide for setting up your practice/business legally

Marketing Guide for creating active and passive streams of income with the learned skills

Step-by-step outline for your sessions

Ready-to-use hypnosis and meditation scripts

3 scripted workshops to help you get ready to present for groups

Client's intake forms templates.

Email drafts.

Scheduling, payment, and cancellation policy drafts.

List of suggested gadgets and software for running online sessions, recording, and editing audio and video.

Text draft for your website for offering Shamanic Journey and Soul Retrieval.
Our Business Bootcamp reopens on October 21, 2023!
4 workshops live on Zoom. 12 noon - 2 pm EST (New York Time)
October 21: Build your toolbox (resources that you can add to any of your future packages)
Supercharge your offerings and enrich your future packages. Elevate your practice with a wealth of tools that set you apart from the rest.
November 4: Build a low-ticket mini-program
Learn the art of crafting enticing, low-ticket mini-programs that will attract a wide audience, ensuring a steady stream of clients while you share your shamanic wisdom.
November 18: Build mid-ticket program - $500+
Take the next step towards financial abundance by creating mid-ticket programs that offer deeper transformation and value, all while increasing your income.
December 2: Build your Signature program - $2.000+ (Yes, you can do that!)
Achieve the pinnacle of success in your shamanic practice by crafting signature programs that command premium prices and reflect your unique gifts as a healer.
The workshops are scheduled two weeks apart which is perfect for each step to be completed. You'll stay on track and accountable alongside a community of fellow healers. No more procrastination – it's time to turn your dreams into reality!
As a special gift to our dedicated community, these workshops are FREE for those who are taking our Professional Hypnotist or Shamanic Healing Practitioner certification courses. I believe in supporting your growth every step of the way.
Your BONUS: Business Bootcamp
Our Business Bootcamp is designed specifically for new therapists, hypnotists, coaches, and healers. You will learn everything you may need to kickstart your business, attract clients, and succeed in the industry. I am sharing what helped me build my business, so you can too thrive and succeed!
Choose the Best Business Model
I will guide you through choosing the best business model for your specific field. We will discuss the pros and cons of each model and help you determine which one will work best for you and your clients. You will leave with a clear understanding of the type of business you want to build and how to move forward.
What You Need to Set Up Your Business and Start Seeing Clients
Will focus on the essentials of setting up your business and starting to see clients.
How to Position Yourself as an Expert in Your Field
We will discuss how to position yourself as an expert in your field. We will cover topics such as branding, networking, and how to build credibility with potential clients. You will leave with a solid understanding of how to establish yourself as an authority in your industry.
Marketing
Marketing is a crucial aspect of any successful business. We will dive into the strategies that work best for hypnotists, coaches, and healers. From social media to email campaigns, we will teach you how to attract clients and build a solid marketing plan that works for you.
Passive Income Streams
We will explore passive income streams. We will discuss different ways you can generate income without actively seeing clients, such as creating digital products or offering online courses. You will leave with a clear understanding of how to diversify your income and create passive revenue streams.
Become more Confident
This workshop is designed to help you become more confident and stop shying away from the camera.
Productivity and Focus
Tips and strategies to help you stay focused
Hypnosis audio recordings
Hypnosis audio recordings for helping you overcome self-sabotage and procrastination, boost your confidence, and generally for success.
Pre-recorded materials of our Business Bootcamp
Ready for instant access
Study online at your own pace - you can acquire a new profession from the comfort of your home.

Attend live Zoom classes and meetings.

Get ongoing support in our private Facebook group and practice your skills with other students.

Build your business as you study. You will find in this course all the information you need to start a business and market your services.

Create your first Signature Offer, and create your first passive income stream.
As the world evolves, so is Shamanism. Not all Shamans wear feathers and beat drums around the fire. Some of us moved into offices and adapted ancient Shamanic practices to make them more suitable for modern minds.
Guard your traditions but don't let them stop you from moving forward. I do use drumming in group healing. It is an excellent "driver" - means to put people into an alternate state of mind - trance. But in the office, when working one-on-one, I use hypnosis instead of drums.
Of course, there is no better way to learn something than to actually experience it. You will experience Shamanic practices like grounding and shielding, Journey, and Soul Retrieval during our classes. You can't help others heal without healing yourself first.
Will there be a chance to practice with peers the techniques taught?
Yes! Join our students' support group on Facebook and attend weekly live Zoom Meetups. You can exchange practice sessions with peers in our Facebook group.
Is there any support offered after the course?
Yes! I am available to you for further assistance. You can reach me by email or call. Join our Facebook group and attend weekly Zoom meetings for ongoing support.
I don't actually have a business yet and don't know where to start.
I have included a written guide to help you set up a new business/healing practice. I also have included a guide for marketing.
What is the teacher's lineage?
Siberian.
What if I am aligned with a different lineage?
It does not matter. I am teaching techniques that can be implemented by anyone, even without any background in Shamanism. The protocol I have developed works even if you or your client don't believe in Shamanism. Look at it as a therapeutic tool.
Will this course help me to prepare for work with groups?
This protocol is suitable for working one-on-one, with groups, in the office setting, remotely online, or outside in nature. A set of three themed scripted workshops is included in the course's files. Download to your computer, type in your adjustments, print, and you will be ready to present to the public.
I am a hypnotherapist looking to implement Shamanic Soul Retrieval in my hypnotherapy practice.
This course will be perfect for you. The whole hypnotic protocol is outlined and 7 hypnotic scripts are included ready for you to implement in your hypnosis sessions.
I don't have an office. Will I be able to offer this service online?
Absolutely! We are using hypnotic language. It doesn't matter whether you are sitting next to the client or working via Zoom or Skype. It's just as effective. You can build a successful business working from home without ever needing to rent an office. You can rent by the hour a larger space to run group events: yoga studio, conference room, classroom...
What is the earning potential for the skill you are teaching?
Depends on many factors: your local market, demand, and how proactive you are in promoting your services. For comparison, I charge $195-250 per 1-hour long private session and $35 - $45 per person for group events (in Maryland). I also get passive income from my audio recordings and scripts for Shamanic practices.
What is the time commitment needed for studying this course?
Study at your pace. Some students feel confident in implementing learned skills in their work with clients quickly. They pass exams within just a few days. Some students take months. Although the course has lots of materials, not all materials are required for the study. There are some sections that are designed to help you start a business and promote your services. Live weekly classes are optional.
Will you be teaching Munay Ki Rites in this course?
No. A Tribe from a small Peruvian village designed these rituals with the purpose of invoking and honoring THEIR Ancestors and THEIR Land Spirits. There is no benefit to you in invoking their Ancestors. They are not the ones that are watching over you.
Isn't Shamanic Gift supposed to be handed down from our Ancestors?
Shamanism is not a 'gift', it's a skill set that you can learn and develop. Nothing is just given. There is no shortcut to knowledge, it takes studies and hard work.
How can you charge money for traditional healing?
When did it become shameful to work for a living and provide for your family? Traditionally, a Shaman was supported and provided for by an entire Tribe. I assume that you don't have a Tribe providing for you and don't live off the Government's handouts. Have pride in earning a living.
Isn't Shamanism exclusive to American Indian Culture?
No. Shamanism is dated over 40,000 years ago. The first settlers came to North America 26,000 years ago. Shamanism existed for many thousands of years before the existence of the American Indian Tribes. Shamanism is practiced all over the world, on every continent, by every race, and by every nation.
Can I practice Shamanism if I am religious?
Shamanism is not a religion. It's a skill set.
Frequently Asked Questions
This course will NOT teach you Native American Religion. Shamanism and Native American religion are NOT the same. Native American tribes don't even have the word "Shaman" in their language. It's a Medicine Man or a Medicine Woman, not a Shaman.
The word Shaman originated in the Tungus language, in Siberia. Shamanism is dated over 40,000 years ago - long before the existence of Native American tribes (26,000 years ago). Shamanism is practiced all over the world, on every continent, by every race, and by every nation.
Shamanism is not a religion, it's not some gift, it's not some magic that can be passed through blood, it's a skill set that one can learn.
It's 2023! Knowledge is available to everyone who seeks it! Only through Knowledge and hard work, you can unlock your Gifts. No one will give it to you. No Gifts are just given. You have to work for them.
You are Special! You are Gifted! You are Powerful! Claim it! ⚡️
Annie Latta
Shamanic Healing
www.puresoulhypnosis.com
Reyna Zarzuela
Hypnosis and Shamanic Healing
Carmel, Indiana, USA
COHOBA THERAPEUTIC SERVICES
Susan Watson
Perfect Solutions Coaching Psychotherapy, Anxiety, Emotions, Trauma
Edinburg, England
If you are not sure if this course is right for you, call (+1) 301 388 8555
or schedule a 15-minute career strategy call in the form below
Stop running away from your Destiny!
I too did my share of running and hiding.
It never worked out.
If you hear the CALL, embrace it!
Evaluation of the course from our students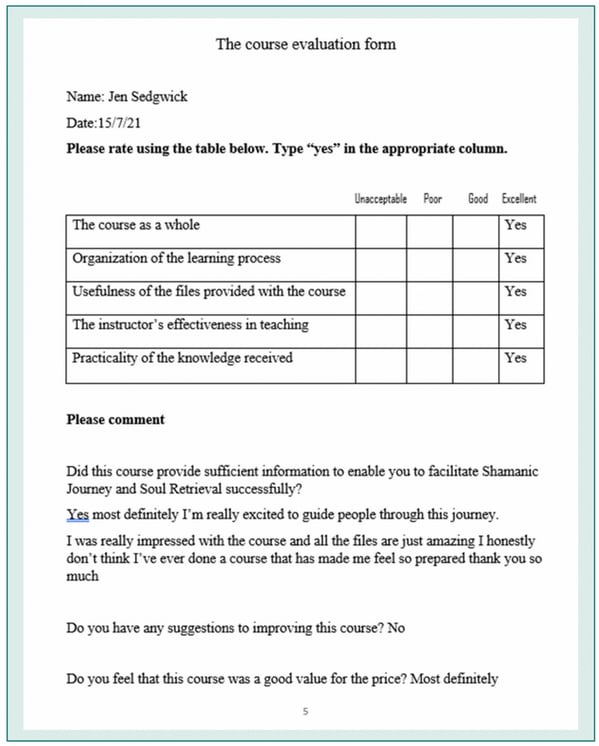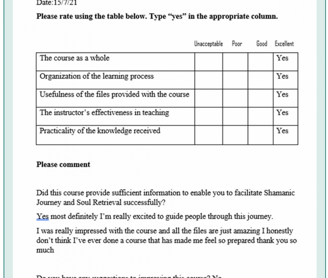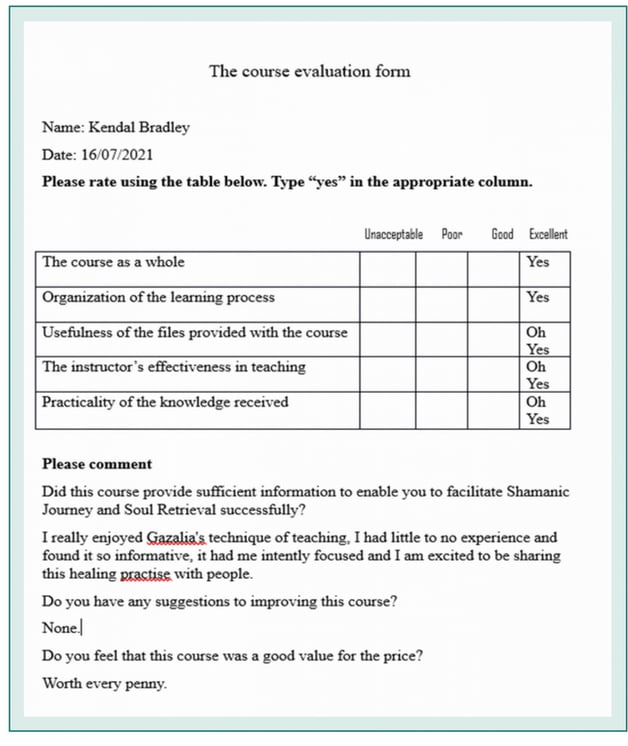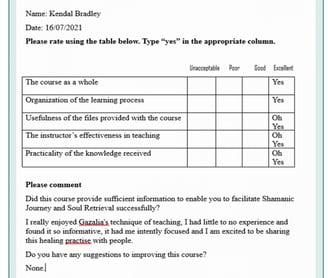 Shamanic Healing Practitioner Certification Course
Instant access: fully pre-recorded classes, study at your own pace. 1-year access to the course hub (you can download the files to keep them permanently)
$599 (or 3 monthly payments of $220)
Bonus #1: 4 live Zoom workshops (Fall 2023) to help you create your own programs for steady income. Library of pre-recorded materials to help you start your business and market your services.
Bonus #2: Live Zoom meetings for ongoing support: every Friday at 12 noon Eastern Time
Bonus #3: Free membership in our private Facebook Group for ongoing support and practice with peers
By enrolling in the course, you are agreeing to the terms of the services